Have you ever heard of
Polstiches Designs
? In addition to some wonderful patterns, kits, and other stitchy supplies, they have the most beautiful hand dyed fabrics! They dye their fabrics into these beautiful, swirly patterns of blues, purples, pinks, yellows, greens. I have my eye on Icy Waters: blue with just a hint of purple and white. I love it!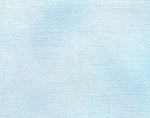 They come in Aida 14 and 16 counts as well as Lugana 28 and Jobelan 26 and 28 counts in a variety of sizes. The prices are pretty reasonable too, for what you are getting!
I am still looking for just the right design to stitch onto it. I haven't yet found a US distributor, so when I am ready, I will have to go straight to the source, but I think it will be worth it!